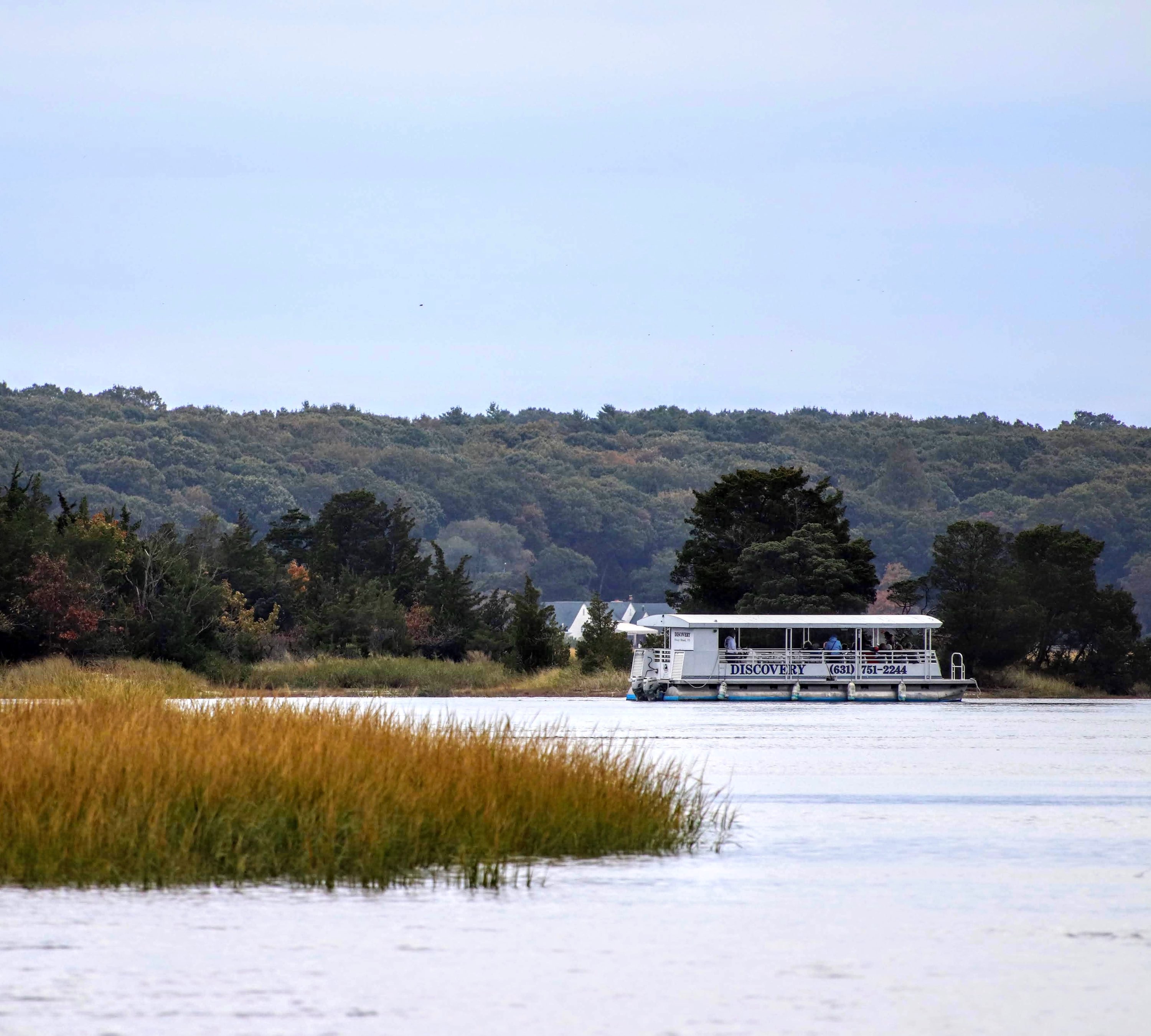 Discovery Wetlands Cruise
WE CAN'T WAIT TO BRING YOU OUT ON WEST MEADOW CREEK!
STAY TUNED FOR THE 2021 SCHEDULE COMING SOON!
Across Dock Road from the Three Village Inn, The Ward Melville Heritage Organization's pontoon boat "Discovery" departs from Stony Brook Marine Services located in Stony Brook, NY.  The 27-passenger vessel cruises through the organization's 88-acre wetlands preserve for a 1 1/2 hour tour.  A naturalist on board will highlight and describe the wildlife and flora that the passengers will see, the natural history of the area and the individuals and events that have shaped it. 
RESERVATIONS
Reservations are taken Monday through Friday, between the hours of 9:00 am and 5:00 pm.
Making a reservation is the only way to guarantee your seat on the Discovery!
Reservation Pricing 
Adults – $28
Seniors & Students – $25
Children under 6 – $18
LARGE PARTY GROUPS
To ensure that your entire party makes it on the boat (as per Coast Guard regulations, we can only allow 27 passengers aboard the pontoon) please make sure to call ahead (631-751-2244) and reserve your seats. 
WHOLE BOAT RESERVATIONS
If you'd like a private boat ride, you are more than welcome to reserve the entirety of the Discovery pontoon! To reserve a whole boat, please call 631-751-2244. 
Whole Boat Pricing
Regular Whole Boat –  $550
Seniors and Educational Groups  – $475
WALK-ONS
We welcome anyone who does not have a reservation onto the Discovery pontoon boat – as long as it is not a full boat or has been reserved! 
Walk-On Pricing (CASH ONLY)
Adults – $35
Seniors & Students – $30
Children under 6 – $20
SPECIALTY CRUISES                         
Our team is always working hard to create new and fun experiences on board the Discovery! 
Photography Cruises
We are collaborating with Camera Concepts and Telescope Solutions to bring special photography cruises to our attendees!  Each session will begin at half an hour earlier on land with a discussion from a Camera Concepts photography instructor, the cruise will then set out for 1 ½ hours, ending with a 15-30 minute wrap-up/critique session after.  
Photography Cruise Pricing 
$50 per person 
GIFT CERTIFICATES
A cruise through beautiful Stony Brook Harbor and serene West Meadow Creek provides an experience unlike any other. Surprising a loved one with a gift certificate to this unique and fun cruise is the perfect present!
Call 631-751-2244 to get more information and to purchase a gift certificate. 
Get a taste of what the cruise is like by watching this award-winning story from MyLITV!
Duration: 1.5
Location: Stony Yacht Club Marina
Address: Address: 55 Shore Rd, Stony Brook, NY 11790 Directions
Contact: 631-751-2244