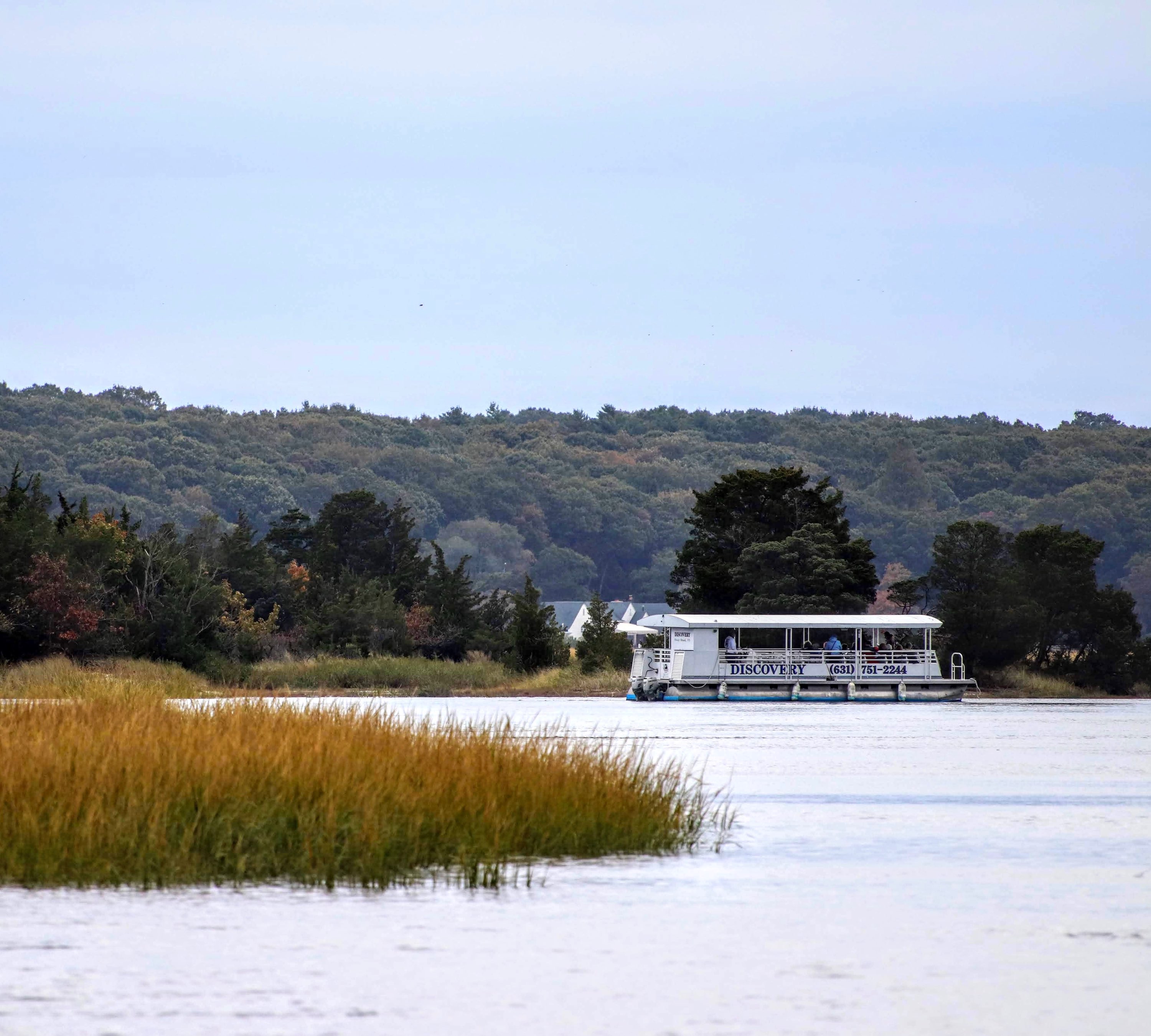 Discovery Wetlands Cruise
Across Dock Road from the Three Village Inn, the Ward Melville Heritage Organization's pontoon boat "Discovery" departs from Stony Brook Marine Services located in Stony Brook, NY.  The  27 passenger vessel cruises through the organization's 88-acre wetlands preserve for a 1 1/2 hour tour.  A naturalist on board explains the wildlife that passengers observe, the natural and human history of the area and the individuals and events that have shaped it. 
PLEASE NOTE… The following cruises have been cancelled: Friday, September 29th & Saturday, September 30th. 
2023 Reservation Pricing
$45  – Per Person (Over 12 Years Old)
$30 – Ages 3 – 12 Years Old
Ages 2 and Under – FREE
As there is a maximum capacity onboard, we strongly recommend calling ahead to make reservations. We do allow for walk-ons – walk-on pricing is different and is CASH ONLY.
2023 Walk-On Pricing [CASH ONLY]
$50 – Per Person (Over 12 Years Old)
$35 – Ages 3 – 12 Years Old
Ages 2 and under – FREE
TO VIEW THE 2023 SCHEDULE, CLICK HERE
*Reservations are NOW being taken – (631) 751-2244*
2023 Full Boat Reservation Pricing
Full boat reservations must be made in advance
$675 per cruise (up to 27 passengers)
To make a reservation and for any questions, please call 631-751-2244. PLEASE NOTE OUR OFFICE IS ONLY OPEN MONDAY – FRIDAY 9AM – 5PM
Get a taste of what the cruise is like by watching this award-winning story from MyLITV!
Duration: 1.5
Location: Stony Brook Marine Services – Across from the Three Village Inn
Address: Address: 55 Shore Rd, Stony Brook, NY 11790 Directions
Contact: 631-751-2244